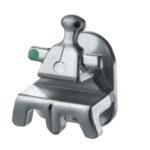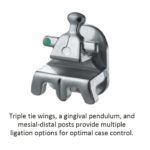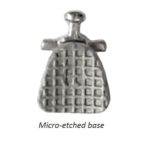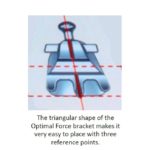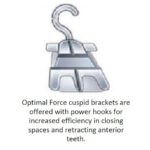 (Each) .022 Optimal Force Stainless Steel Bracket
Item #Force-SS-22
Minimum order quantity is 5. You can not add less than 5 to your cart.
Description
The Optimal Force Bracket System from OrthoQuest is a multi-force bracket that allows you to begin torqueing teeth on day one with very low force and finish a case in half the time as with standard twin or self-ligating brackets. Optimal Force brackets have three* incisal tie wings and a gingival pendulum allowing for better control and management of progression of force through treatment by changing the way the wire is ligated in the slot.
All brackets have a ball hook on the gingival tip, a beveled slot for increased inter-bracket distance, a centered scribe line for accurate alignment, and torque in base to magnify force and reduce friction. Bracket base is micro-etched to improve bond strength for maximum retention. Brackets are low profile for exceptional patient comfort. Offered with a .022 slot.
Recommended wires: We recommend starting with Vision Thermal-Flex™ Multi-Force heat-activated Niti wires with a dimple. The varying forces in the three segments of the wire combined with varying force levels in ligation allow for better control of the entire arch. A 20×20 wire will begin torqueing immediately and can be used as the first wire. CuTanium™ copper NiTi will also work well with the Optimal Force brackets since ligating controls the friction. When torqueing, leveling and aligning are complete, move to a Stainless Steel wire.
Minimum order quantity of 5 brackets.
Additional information
| | |
| --- | --- |
| Brand | OrthoQuest |
| Size | |
| Bracket Type | UR1 (Upper Right Central), UL1 (Upper Left Central), UR2 (Upper Right Lateral), UL2 (Upper Left Lateral), UR3 (Upper Right Cuspid), UR3 HK (Upper Right Cuspid w/Hook), UR3 PH (Upper Right Cuspid w/Power Hook), UL3 (Upper Left Cuspid), UL3 HK (Upper Left Cuspid w/Hook), UL3 PH (Upper Left Cuspid w/Power Hook), UR4 (Upper Right 1st Bicuspid), UR4 HK (Upper Right 1st Bicuspid w/Hook), UL4 (Upper Left 1st Bicuspid), UL4 HK (Upper Left 1st Bicuspid w/Hook), UR4/5 HK (Upper Right Bicuspid w/Hook), UL4/5 HK (Upper Left Bicuspid w/Hook), U L/R 4/5 (Upper Universal Bicuspid), UR5 (Upper Right 2nd Bicuspid), UL5 (Upper Left 2nd Bicuspid), L1/2 (Lower Anteriors), LR3 (Lower Right Cuspid), LR3 HK (Lower Right Cuspid w/Hook), LR3 Power Hook (Lower Right Cuspid w/Power Hook), LL3 (Lower Left Cuspid), LL3 HK (Lower Left Cuspid w/Hook), LL3 Power Hook (Lower Left Cuspid w/Power Hook), LR4 (Lower Right 1st Bicuspid), LR4 HK (Lower Right 1st Bicuspid w/Hook), LL4 (Lower Left 1st Bicuspid), LL4 HK (Lower Left 1st Bicuspid w/Hook), L L/R 4 (Lower Universal 1st Bicuspid), LR5 (Lower Right 2nd Bicuspid), LR5 HK (Lower Right 2nd Bicuspid w/Hook), LL5 (Lower Left 2nd Bicuspid), LL5 HK (Lower Left 2nd Bicuspid w/Hook), L L/R 5 (Lower Universal 2nd Bicuspid), L L/R 4/5 (Lower Universal Bicuspid) |